---
INTERNATIONAL JET INTERIORS
---
INTERNATIONAL JET INTERIORS
With private aviation on the rise, ADRIANNE ROTH, Private Client Relations at International Jet Interiors (IJI), recently spoke with us about IJI's work and trends in the private jet space. IJI is a New York-based aircraft completion center that designs and outfits private jet environments for high profile individuals and corporate brands.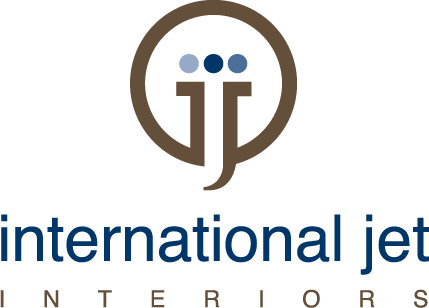 How would you summarize the core of IJI?
IJI custom designs, engineers and handcrafts the finest private aircrafts for high profile clients around the world.
Client projects range from refabricating countertops to complete cabin upgrades to include on-flight theaters, offices, chic lounges, cigar bars and over-the-top sleeping quarters.
We install custom lighting, cabinetry and couture upholstery and also completely outfit cabins with luxe table linens, china and crystal, art, and unique accoutrements.
In what ways has the private aviation industry evolved since IJI began personalizing private aircrafts 35 years ago?
Private jets have become so much more accessible and are widely depended upon as an efficient mode of transportation for both business use and personal travel. For some, it is their primary mode of flying.
We have also seen personalization become much more specialized where designs have evolved from "business beige" to a full spectrum of colors and textures to reflect an owner's individual style.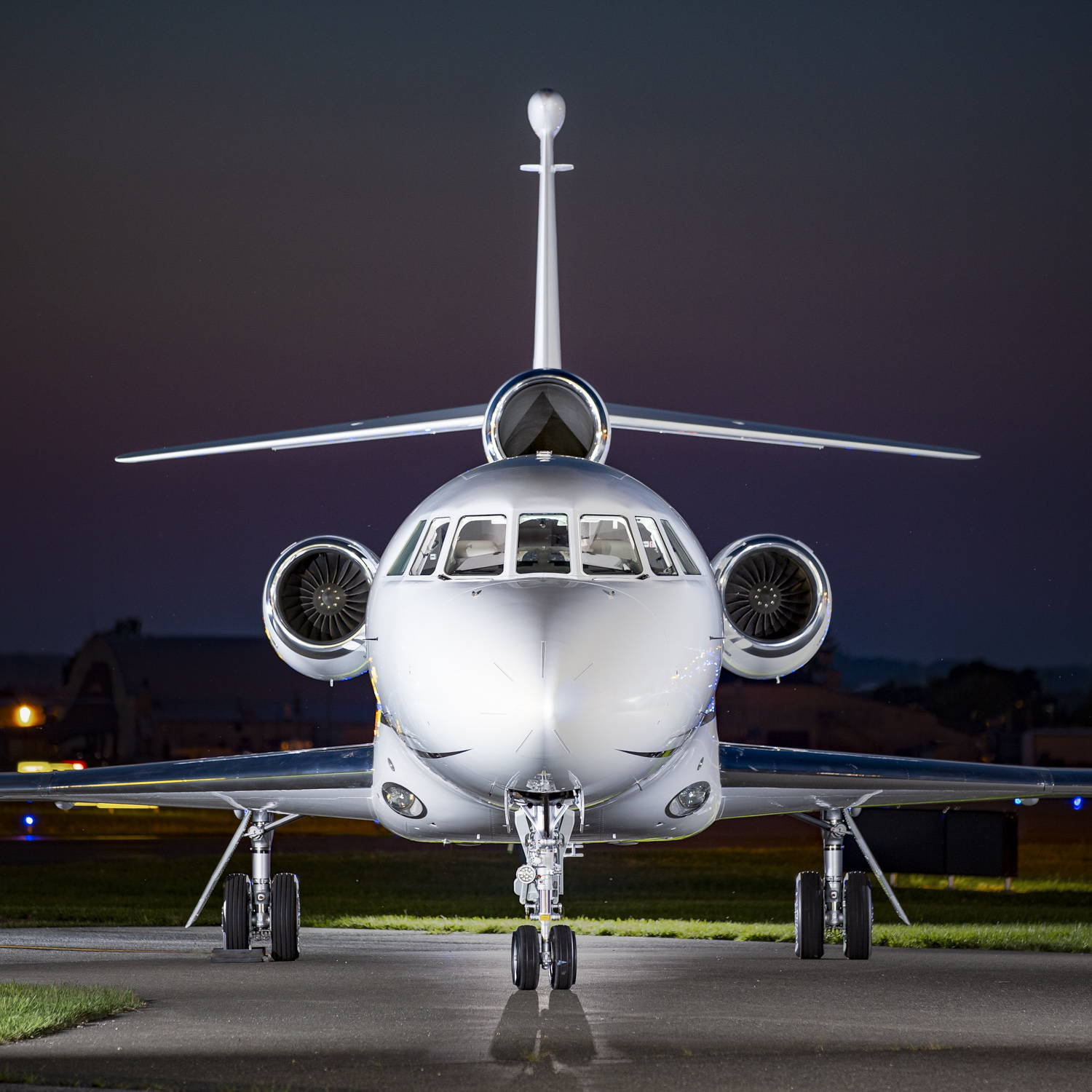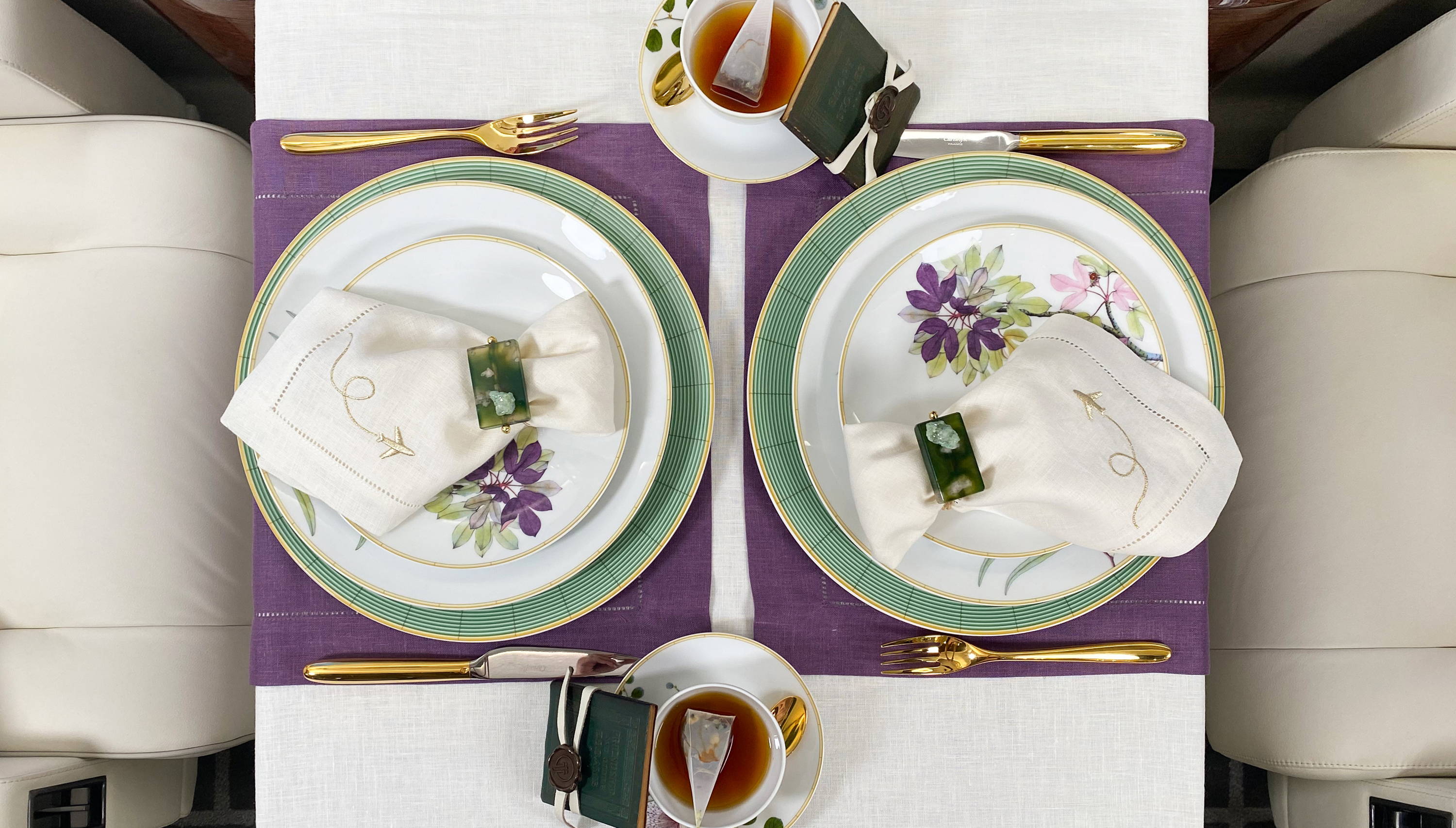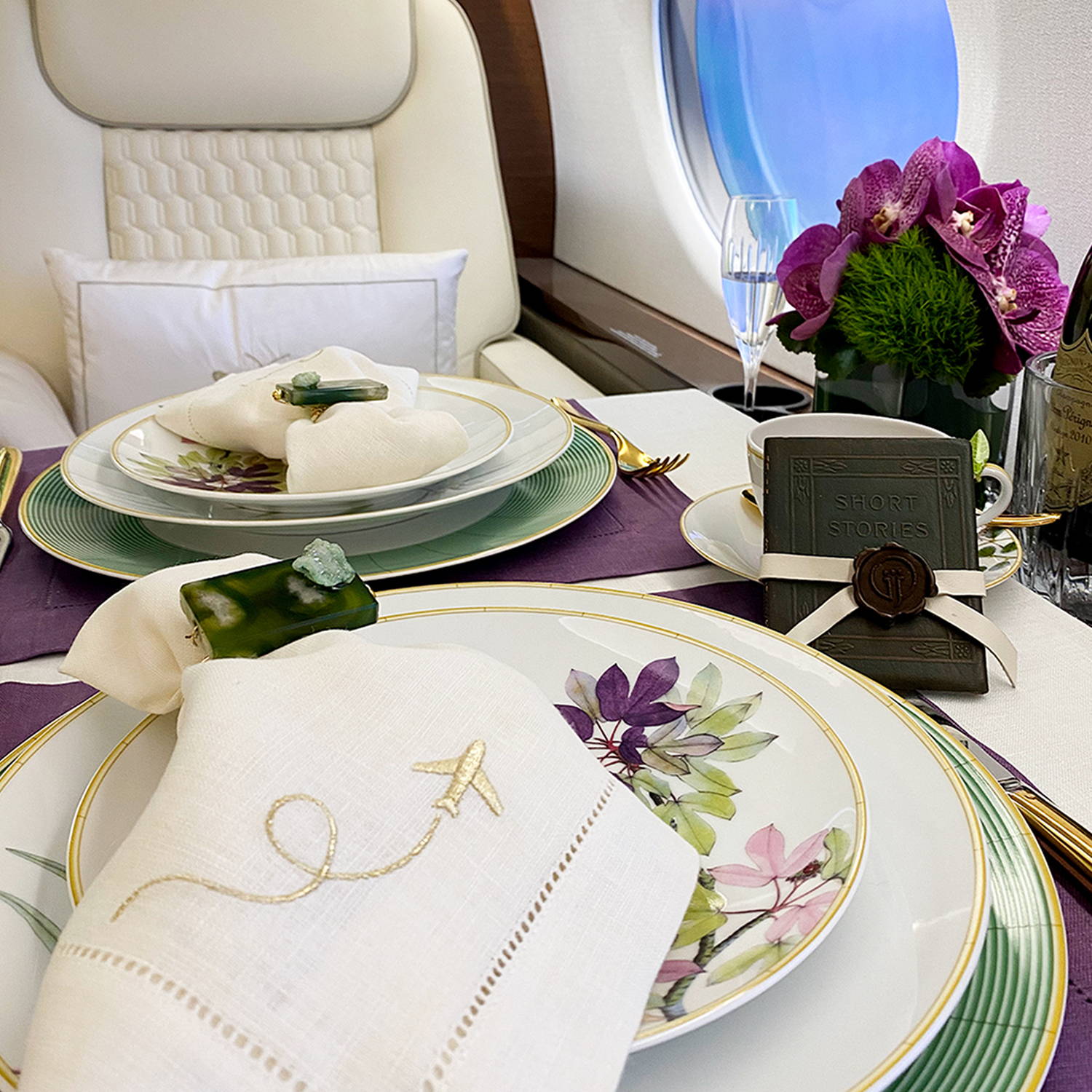 How do you approach the process, from ideation and planning to final delivery for your clients?
Most often, clients involve us prior to an aircraft acquisition to help them estimate the financial exposure given the scope of work that is desired. Clients come to us with their vision, and we methodically and creatively make recommendations considering the type of travel and the goal of the owner while en route.
These consultations have taken place in the air, at our clients' homes, on their yachts, and even where they are vacationing to accommodate their busy schedule. Once the project is complete, we deliver their aircraft, completely outfitted, right down to the most minute detail.
We consider it all—bedding, linens, silverware, stemware, cashmere throws, toiletries, and even favorite books highlighting hobbies and interests.
What are some of your favorite SFERRA collections/pieces to work with for private clients?
SFERRA's heritage, craftsmanship, and the vast array of bespoke options is what we love the most.
We expect and demand the very best for our clients. With over three decades of experience with the finest brands around the world, the relationship we have cultivated and rely upon with SFERRA is so important.
We customize each aircraft when incorporating SFERRA onboard. Tailored bedding and couture table linens add visual and textural beauty to our designs. And the quality stands up to the rigors needed onboard a private jet.
What are some of the most unique personalizations clients have approached IJI with for their private aircrafts?
We have been privileged to have handcrafted some of the most notable private jets found on runways around the world.
Our projects have ranged from creating theaters in the sky for high profile producers and A-List celebrities, to fabricating yoga studios, nurseries for babies, and a "puppy proofed" cabin to accommodate three beautiful (and huge) Moscow watch dogs.
Our team designed an "office-in-the-sky" for a Wall Street executive to replicate the home office, right down to duplicating multiple trading monitors and measuring for seamless work onboard.
Additionally, we have outfitted aircrafts for a Sheik, a Prince, a past U.S. President, and most recently, the iconic Playboy aircraft—otherwise known as the "Big Bunny."